use a stone backsplash to create a rustic kitchen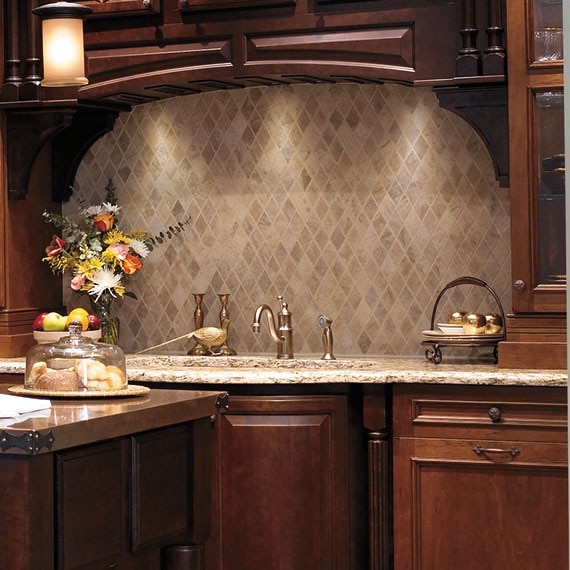 A kitchen backsplash does more than pull the room together and add detail to your space. When styled well, the backsplash becomes a focal point and a conversation piece. If you're going for a rustic look, try adding a stone backsplash. This will become the standout element in a room, so make sure you use the right tile to give your space a bold and trendy, yet timeless look. Here are some tips for choosing the right rustic stone backsplash.
Go with Glazed Porcelain Tile
You can bring the gorgeous hues of natural stone and the multi-colored look of nature into your kitchen by selecting glazed porcelain tiles. The Archaeology collection beautifully mimics the look of stone by offering striking earth tones that look like they were crafted over time. Glazed porcelain tile is also easy to clean, making it the perfect material for the kitchens.
Opt for Mosaics
Give your kitchen refined beauty by adding the rustic look of slate to your space. Walnut Canyon is a glazed porcelain tile that resembles slate found in Europe. A glaze is applied to give the tiles the streaked, varied look of natural slate, and it's available in brick joint mosaic. It also comes in several colors, ranging from warm to cool shades, so you can create a stone backsplash that perfectly suits your space.
Add the Look of Limestone
Bring the outdoors into your kitchen by adding the look of limestone to the backsplash. This creates a rustic vibe that offers both beauty and texture. Check out Haven Point natural stone tile, which comes in a handful of shades that resemble limestone. A stone backsplash made of this tile will have the veins and color variations that are found in nature, with rich earth tones that are perfect for creating a modern, rustic look.
Keep It Simple
Do you want to give your kitchen the look of natural stone but retain a bold, modern style? Middleton Square tile slightly resembles natural stone, but it comes in a sleek rectangular shape to give you versatile design options. It looks like a subway tile and can be placed vertically, horizontally, in straight lines, or in staggered rows. It comes in six stone-like shades, so you can create the perfect combination of style and sophistication for your stone-look backsplash.
The kitchen is the heart of the home, where everyone likes to gather. You want your kitchen to be full of bold style that makes a lasting impression on your guests. Add a stone backsplash made of gorgeous tile, and you'll create an unforgettable rustic design that looks stylish and high-quality.