Using Tile Edges and Trim to Complete Your Look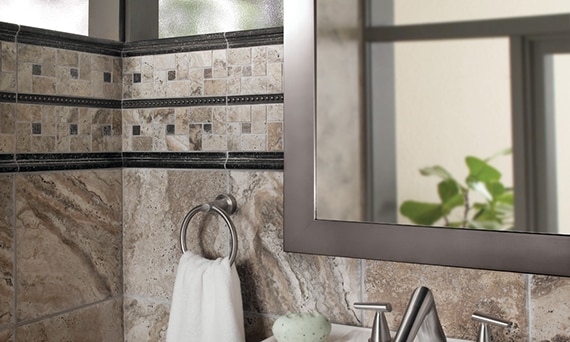 Once you've selected the perfect tile for your new backsplash, accent wall, or tub surround, you'll also need to account for the trim portion of your design project. If your tile extends over the full wall length, down to the floor or up to the ceiling, unfinished edges may not be a concern. However, partial wall coverings or exposed edges may require you to use trim pieces. Here are some ideas on how to finish your tile design.
Use a Coordinating Trim Tile
Trim tile pieces are designed to prevent exposed tile edges. A popular trim option, known as bullnose tile, has one rounded edge that provides a neater finish for your backsplash, wall, or tub surround. Many tile designs feature coordinating bullnose tile options to maintain a consistent look. Bullnose tile may be smaller than regular tile, but it features the same design and color. Alternatively, the rounded edge being the exception, bullnose tile may be the same size and shape as its counterpart, which allows for a more seamless appearance.
Go with a Decorative Trim
If you want a trim that's more decorative than a simple rounded bullnose tile, an accent tile can be used to hide the exposed tile edges of your backsplash. For instance, consider going with chair rail tile, a pencil liner, or another linear tile option in a bold color to achieve a finished look. Coordinating accents are also available within many individual tile lines and these add a modern, sophisticated look to any space. Depending on your overall design scheme, you can either go with a matching tile color or add dramatic contrast by going with black trim over white tile.
Make Your Edges Pop with Accent Tile
Increase the visual beauty of your new tile design by adding a mixture of glass, porcelain, or stone-look tile. When used as an accent strip, a mesh-mounted mosaic, such as the Midpark Mosaics series can draw the eye to the beauty of your backsplash or tub surround, while also serving as a finishing piece to cover rough tile edges. For added opulence, choose trendy marble or decorative metal accent tiles to outline your tiled wall, shower, or backsplash.
Leave It Unfinished
Some tile materials, like natural stone or glass mosaics, may have enough of a finish on the edges that no special trim is needed. For ceramic and porcelain tile, unfinished edges can be covered with a thin layer of caulk or even grout. Though this look is less decorative and may fit well with more contemporary applications.
Planning can help you achieve a polished, professional look for your tile project. If you need assistance coordinating trim tile, stop by a Marazzi retailer today to view the latest styles.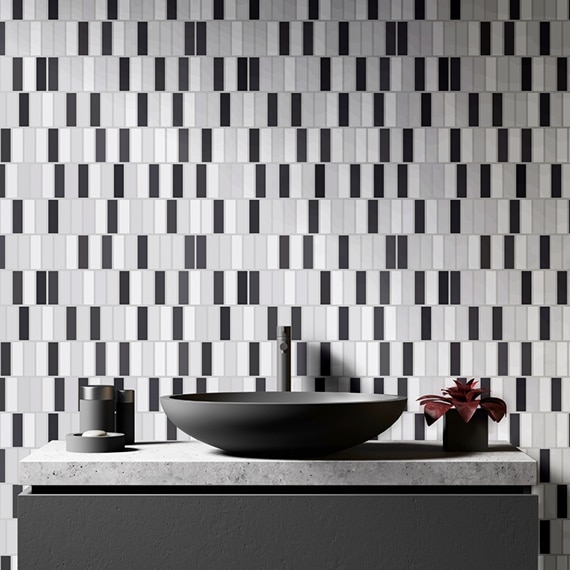 dare to be bold
Style & Design Tips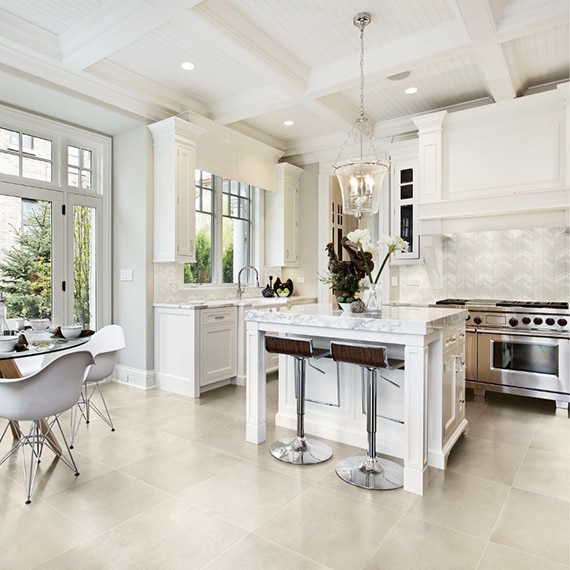 Inspiration gallery
Design Guidance