New Products
Daring new Marazzi series offer on-trend design options for stunning floors and walls perfectly tailored to individual design preferences. Innovative looks from earthy ceramics and concretes to metal accents and glass embellishments lend themselves to a variety of design styles.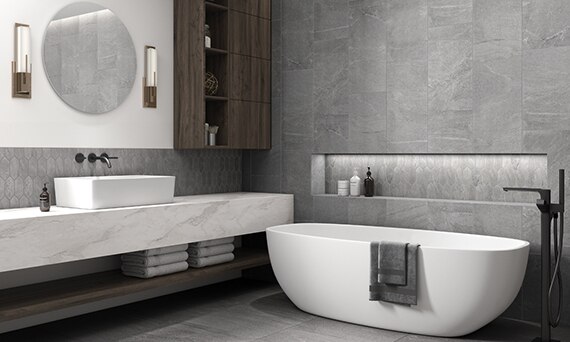 Marble Obsession™
The pursuit of classic beauty and luxury is found within Marble Obsession, a collection inspired by an array of three unique marble visuals. Its alluring color palette ranges from a classic white with dramatic gold veining to an attractive grey featuring white striations. This well-rounded series offers versatility through a mix of different shapes, sizes, and finishes—everything you need to create breathtaking spaces. Transcend traditional marble installations and step into the next level of marble inspired designs with a 2x5 Picket mosaic, 8" Hex, and a 6" Arabesque wall piece, guaranteed to mesmerize and satisfy your desire for modern elegance.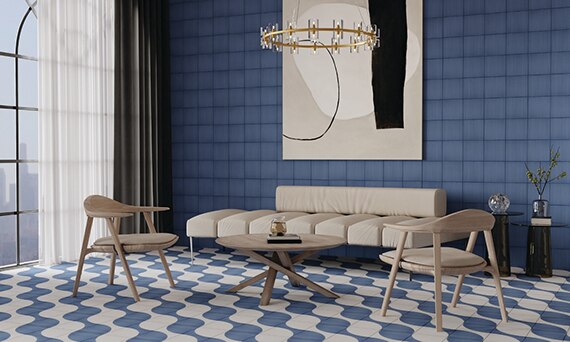 Scenario™
Scenario emulates tone-on-tone brush strokes typical of majolica tiles found in Mediterranean architecture. Tiny flaws come together to make each piece unique and poetic. An interplay of opposites from six deco's to three solid colors shape abstract imagery through curves and clean lines. Its streamline of movement across floors and walls creates eye-catching patterns from structured cubism to flattering waves.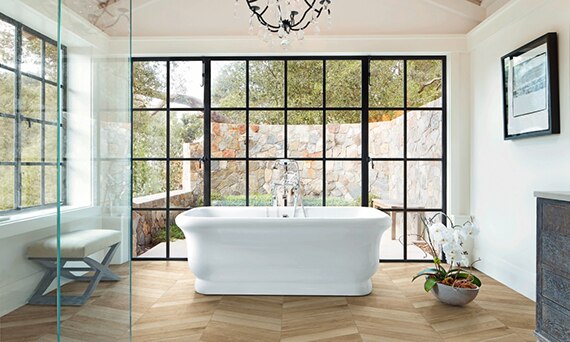 Treverksoul™
Presenting an aristocratic soul with a contemporary feel, Treverksoul mimics realistic hardwood visuals combined with authentic knot and grainline variations. Inspired by antique parquet floors, this collection attractively revives a style from the past. Its distinct chevron shape filled with rich color and shade variation brings a refreshed ambiance to any space.
SABBIA MARMO™
Sabbia Marmo™ captivates any space with its subtle, yet elegant sand-like visuals. Inspired by natural stone, matte finish colors available in white, medium gray, dark gray, and black. Sabbia Marmo is a modern take on traditional stone. Available in three distinct sizes — 12x24, 24x24, and 24x48, plus an eye-catching linear strip mosaic. Features
StepWise™ technology
for superior slip resistance in both residential and commercial spaces. Create daring looks to express your unique style.
Coastal Effects™
Create luxurious designs using Coastal Effects molten glass mosaics. Vibrant color tones in four color combinations, from sapphire blue to rich onyx, create ribbons of color in this unique mosaic. On-trend geometric shapes take form in Small Picket, Large Picket and a Trellis accented with antique mirror.
GeoMetal™
A bold metallic wall tile, GeoMetal stands out with its three dimensional structures in 6x6, Hex Mosaic and Harlequin Mosaic. GeoMetal makes a statement with Champagne Gold, Gunmetal, Bronze, and Nickel metallic color tones. Pattern designs in Geometric, Floret and Ornament lend rich textures to any space. A special blend of materials gives the authentic look of metal, while giving GeoMetal the durability to be installed in wet areas.
Zellige™
Inspired by ancient Moroccan tiles, Zellige blends North African tradition with industrial ceramics. The undulated surface and variation in color tones accentuates the natural imperfections and hand-crafted look of Zellige. Its glossy finish and visible variation creates a blend effect in which the color vibrates strongly. Offered in an array of 12 beautiful shades, these 4x4 tiles have the power to transform any space.