4 Reasons Why Using Natural Stone is a Bold Design Choice


The earth-inspired look and feel of natural stone are two of the biggest reasons why homeowners look to stone when implementing new designs. With an increasing number of homeowners and builders focusing on incorporating natural elements into their home designs, stone look tiles have become fabulous staples in home décor.
If you are looking for bold, distinctive designs, stone look tile is the obvious choice as no two pieces are the same. Whether used as flooring or a backsplash, stone look tile offers unique composition and marbling.
If you're considering incorporating stone tile into your design, you'll discover that stone look tile has many advantages. Here are four reasons why natural stone look tile can add a trendy and earthy flair to your home design.
Reason #1: Stone's natural beauty can match any style.
Natural stone's impact on architecture and design spans generations. Limited only by the imagination, stone look tile is versatile and can be used in a variety of spaces and in many ways within the home. Because personalization is the key to great design, stone tile, and stone look tile are perfect flooring choices for creative homeowners.
Like natural stone, stone-look tile also delivers a captivating mix of color movement, distinguishing lines, and varied finishes. These characteristics bring an understated sophistication to any project, including floors, walls, or bathroom surfaces. Even if you don't use stone look tile as a focal point, such as a floor or backsplash, it can be perfect for accents combined with other materials. A buffed-finish, stone look mosaic as a border around a stainless-steel backsplash, for example, creates a striking contrast that's natural and industrial-inspired. Because the possibilities are endless, the natural beauty of stone can inspire bold, one-of-a-kind designs.
Reason #2: Stone's diversity will inspire a trendy design.
Stone look porcelain tile replicates numerous types of stone. Here is a quick look at the visual characteristics of some of the most popular stone options.
Marble
Marble comes in a variety of rich, neutral shades. A bathroom vanity is a perfect backdrop for marble products, and a great example is the Haven Point line. With white and gray color tones, Haven Point can convert modern trend ideas into exquisite stone product designs.
Slate
Slate is another popular flooring option that can turn an ordinary sunroom into a nature-inspired outdoor living space. Its naturally uneven surface adds dimension to backsplashes and creates a sense of movement as an accent tile.
Travertine
Travertine tile, such as the Archaeology line, gives any room a stunning, natural finish. It is great for interior use and is often cut into smaller mosaic tiles for backsplashes. Naturally uneven and stony, travertine is a rustic, but charming flooring material that is perfect for making a statement in foyers or entryways.
Reason #3: Stone look tile is available in a variety of finishes.

Not only are there many types of stone, but you can also have stone look tiles finished in a variety of ways. Polished finishes give your tile a glossy surface that reflects light and naturally illuminates a room. Alternatively, a honed, matte finish gives the tile a smooth surface with no gloss.

To replicate a rustic or distressed look, antique-brushed finishes or tumbled finishes, are perfect for revealing imperfections that give the tile more character.

Whatever finish you choose, make sure that it works well with your décor to successfully pull off your design idea.
Reason #4: Stone makes an emotional impact on your home.
Including nature-inspired items, like stone, into your home's design can evoke emotions that you experience in nature, from calmness and positivity to excitement and rejuvenation.
When choosing materials for the home, incorporating natural elements into design has become increasingly more important, and natural stone-look tiles fit right into this principle. But, you don't have to stop at natural stone. Here are some other ideas for incorporating nature into your home designs.
• Look to Wood: Wood look tile works well with a range of colors and styles, and it creates a warm, natural feel in any space.
• Recycle and Reclaim: Recycled products are all the rage for enthusiasts of sustainable living. Use reclaimed barn wood as a headboard in your master bedroom.
• Floral Touches: What's more natural than flowers? Add a fresh bouquet on top of your natural stone countertop to create a stunning visual.
• Let It Shine: Natural sunlight and stone go hand in hand. A polished, reflective finish on your tile can naturally illuminate a room from floor to ceiling.
Natural materials offer effortless beauty and functionality to any design, but some natural stone materials require special care to preserve quality, so do your research before deciding on final design elements. Speak to your local tile dealer or a designer to discover what products will work best for your home improvement project.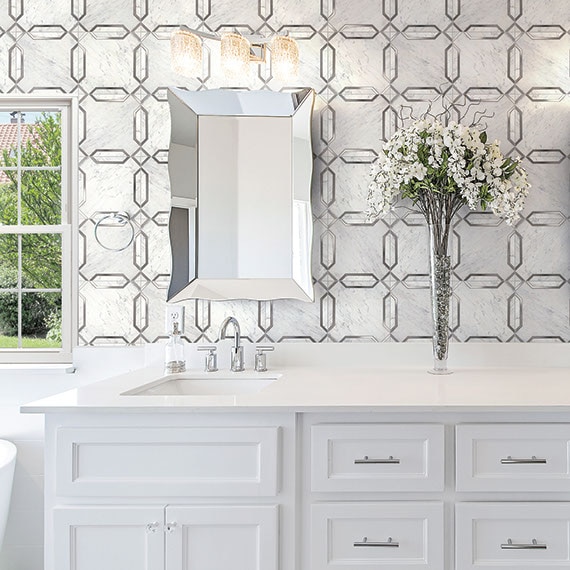 What's Trending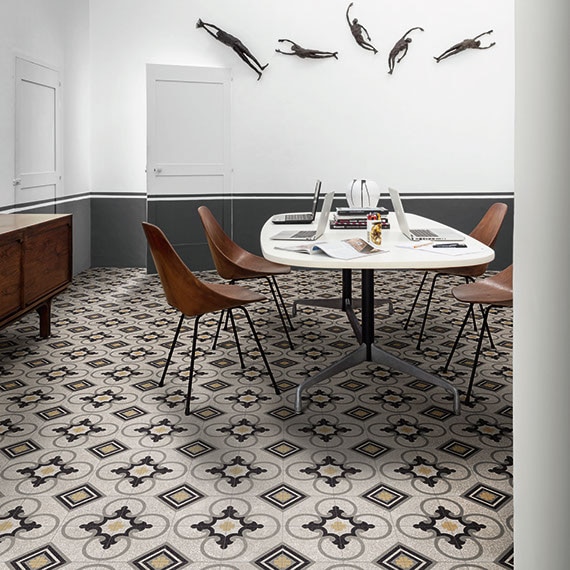 Just Released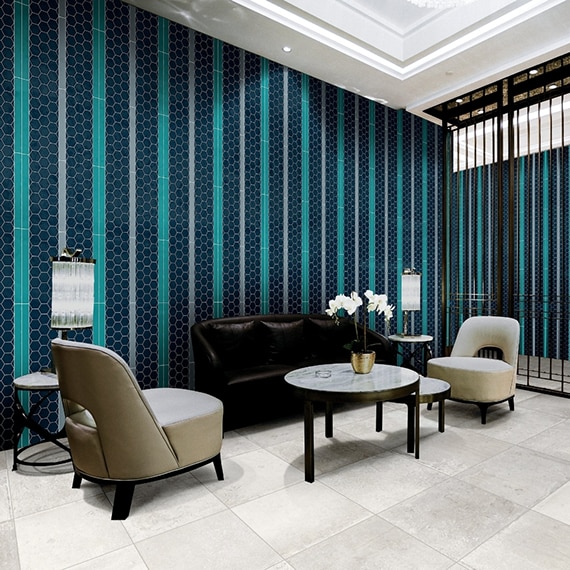 Inspiration gallery
Design Guidance