Choosing the Right Floor Tile for Your Kitchen
When choosing floor tile for your kitchen, choose one that makes a strong design statement and creates the right look for your space. Start with an overall design theme, then choose a tile that highlights the look you're trying to achieve. For example, if you want a kitchen that feels warm, choose a wood-look tile. And if you want a design that is rustic, consider natural stone tile. The following tips will help you choose a floor tile material that will complete the kitchen design of your dreams.
WOOD LOOK TILE PROVIDES A LOW-MAINTENANCE, COZY FEEL

Reclaimed wood will give any space a gorgeous, modern look, and you can achieve the same results with wood look floor tile. Edgewood™ porcelain tile, for example, makes your kitchen feel rustic, cozy, casual, and comfortable. This line has all the character and charm of real reclaimed wood, with the low maintenance properties of porcelain. These tiles are made with advanced 3-D imaging that gives them the look of real, aged, reclaimed wood.
NATURAL STONE OFFERS A RUSTIC OR POLISHED LOOK

There's no design material more timeless than natural stone, and it's a perfect tile for your kitchen.
Stone kitchen floors pair perfectly with industrial designs, old-world-inspired looks, or modern styles, and Marble Obsession™ is a great example of a tile that looks like natural stone. It features realistic veins of color that run in random patterns across the tiles in natural earth tones, but it is not stone. The Marble Obsession collection is ColorBody™ porcelain that mimics stone, for an easy-to-clean floor.
CONCRETE LOOK TILE ADDS CHARACTER
Concrete look tile is a great flooring option for the kitchen. It offers a trendy, industrial vibe, comes in a variety of color tones, and is durable.
D_Segni Color™ glazed porcelain is offered in traditional concrete visuals and coordinating encaustic tile. This popular series offers the look of concrete in shades of bold color to add dimension to any kitchen décor. These tiles are available in 8" x 8", and with its patterns and shading looks like real concrete.
STONE LOOK PORCELAIN CREATES A MODERN MEDITERRANEAN LOOK
Make your kitchen feel European by adding 3-dimensional porcelain flooring. Uniche™ ColorBody™ porcelain will make your kitchen feel like it belongs in Tuscany. With texture and indentations that make it look and feel as though it was quarried right out of Italy, it is available in several shades, and this porcelain tile will give your kitchen a modern look that is as trendy as it is timeless.
Whether you want the rustic warmth of wood, the sophisticated shine of stone, or the striking beauty of color, Marazzi has the perfect tile for your kitchen designs. Use these tips to choose the perfect floor tile and design the space of your dreams.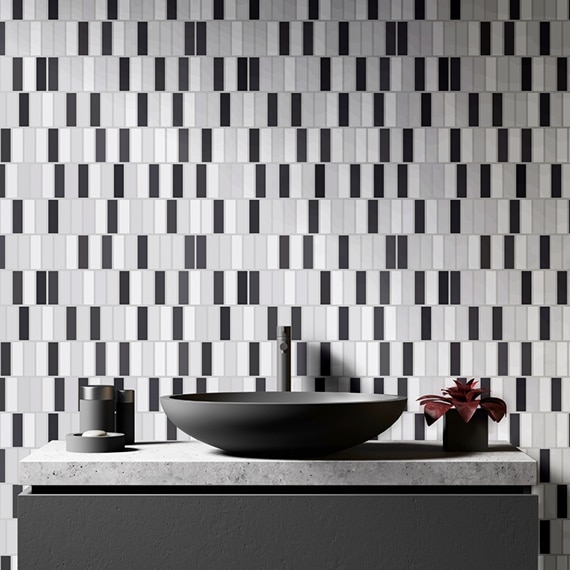 dare to be bold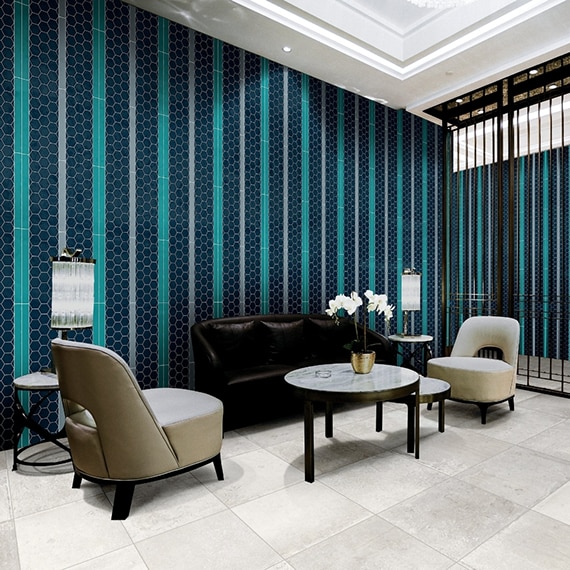 Inspiration gallery
Style & Design Tips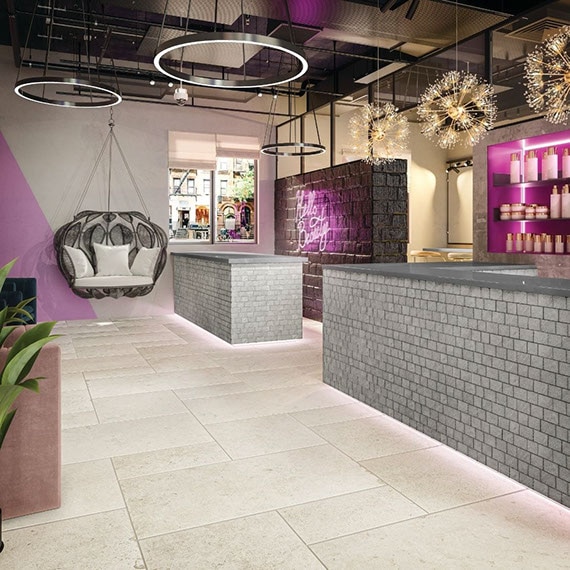 Design Guidance