How to Design a Gray Tile Bathroom
Get inspired in a big way!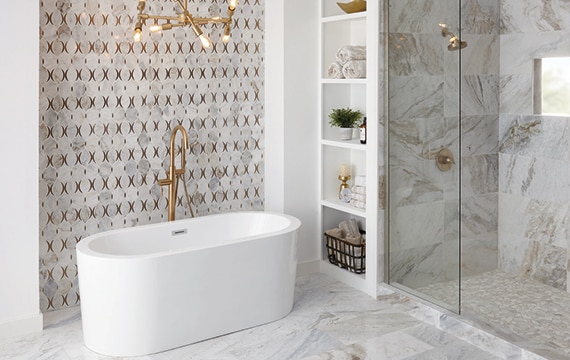 Gray tile bathroom designs are taking the market by storm, and lucky for you, it's easy to jump in on the trend and create a chic gray look in your bathroom. Fashioned in gray floor tiles, mosaic tiles, and cabinetry, a gray bathroom can be a place of absolute serenity when properly planned. Pulling off a gray bathroom design that incorporates pops of color is easy, you just have to know where to start. Let's check out some ideas!
Layer with Different Shades of Gray
A well-designed gray bathroom can be stunning. Because of the clean, modern aesthetic, it reflects both contemporary and sophisticated design styles, which is a perfect combination for a bathroom space. Gray cabinets and walls lay the foundation for gray designs, but the power is in the details.

A true gray-themed bathroom is one that incorporates various gray materials in several different shades. For example, consider pairing a gray mosaic tile backsplash with gray glazed ceramic floor tiles and a speckled gray granite vanity top. Keep gray as the central focus but add a pop of color to optimize your design. This can be achieved by adding decorative art, vibrant vases, and bright flowers to your décor.
Start with the Floor
When designing an all-gray bathroom, it's easiest to start with the floor and work your way up. Gray floor tile comes in a variety of options, ranging from glossy glazed ceramic that looks like a weathered stone to modern porcelain tile. Not only are they durable, long-lasting flooring options, but they're also easy to clean and maintain. When choosing your floor tile, make sure to pick the right size. If your space is smaller, for example, consider going with a large-format tile. Bigger tile will not only visually expand the room, but it also looks seamless and modern.
CONSIDER A GRAY MOSAIC TILE BACKSPLASH
Gray is a popular color in design because it comes in so many different shades. Aside from solid gray tile, which comes in many tones of light and dark gray, you can also make your backsplash shine by using a gray tile mosaic pattern that features multiple shades of gray.

Consider Nu_Tempo™ to achieve this look. Available in shades of pearl, taupe, pewter, and slate, Nu_Tempo allows you to synthesize your design with multiple rich gray combinations. The result: an eye-catching mosaic pattern that any homeowner would love.
Gray is a great color to design with because it's neutral, airy, and bright. By mixing various shades and tones of gray within your bathroom design, you can create a space that is as visually interesting as it is inviting. Just be sure to mix different textures to avoid a flat gray tile bathroom that leaves little to the imagination. To get inspired and explore tile options, head to your local Marazzi wholesale distributor.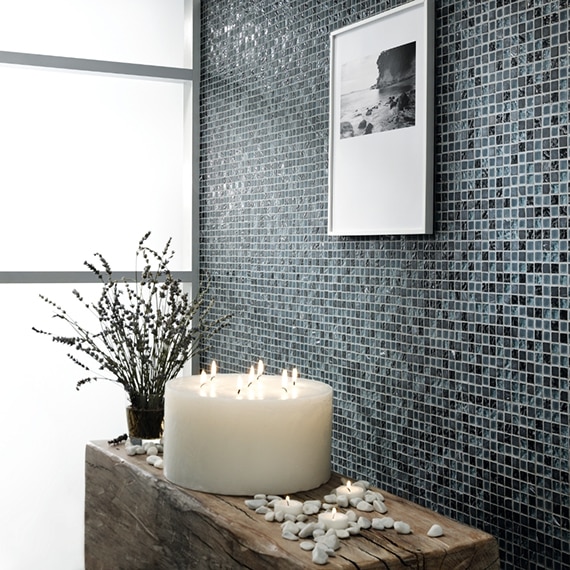 See all our products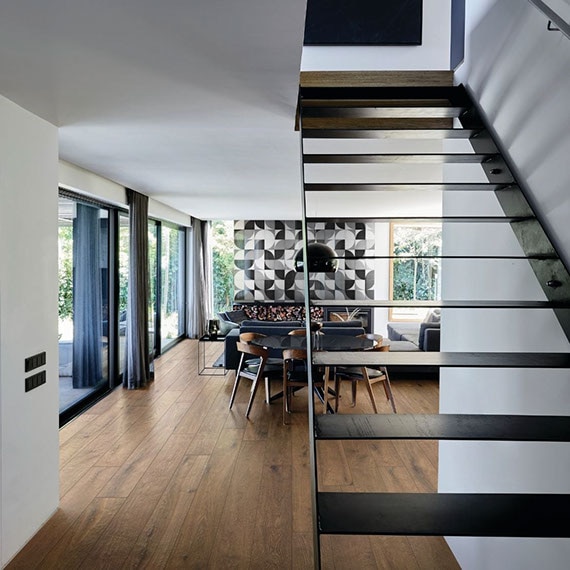 Why CHOOSE
TILE?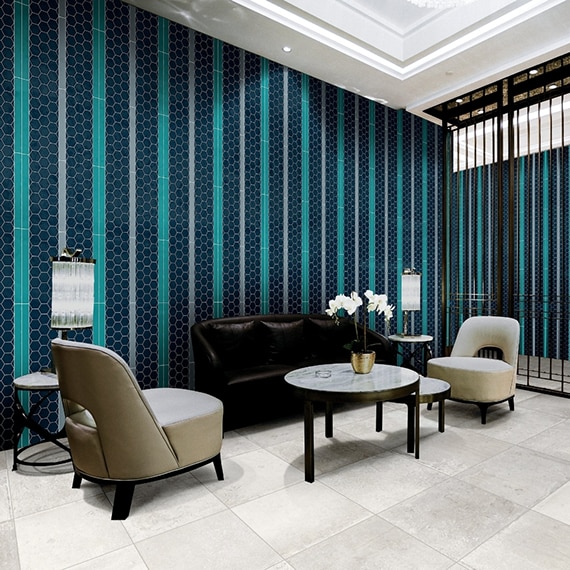 Inspiration gallery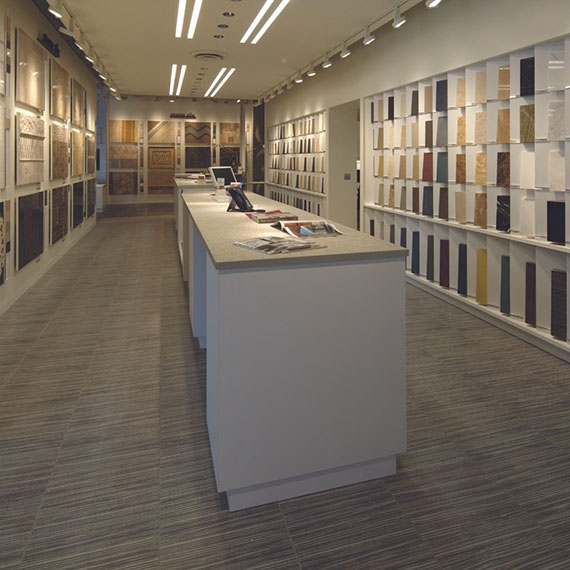 Design Advice