4 Creative White Bathroom Ideas
Once thought of as the hygienic and sanitary color, nearly all bathrooms of the past were designed in white. These days, all-white palates are not nearly as common as color-themed bathrooms, but now an all-white bathroom can be quite sophisticated and contemporary.
When designing a white bathroom, it's helpful to think of shades of white as an artist would. For example, a cloud on a sunny day is mostly white with gray and brown hues, a porcelain white teapot has a tint of yellow, and while freshly fallen snow appears to be glistening white, with a blue cast.
You get the idea, so think in terms of hue when designing with white. Do you want your bathroom to be a warm white or on the cool side? White with yellow undertones might be more inviting if you have children who will be using the space, but cooler tones prevail in a bathroom largely used by adults. Here are a few ways to transform your all-white bathroom ideas into reality.
1. Add One Accent Wall
When using different shades of white, go bold on one wall so that the overall bathroom design is harmonious. Consider using
Hawthorne
™ in Refined White or
Costa Clara
™ in Cloud for a striking walk-in shower wall. For a more seamless look,
Classentino Marble
™ is an excellent choice. Then use plain white tiles for the rest of the room—on the vanity backsplash, countertops, and floor. You could tie the room together visually by adding a thin strip of the accent tile around the room.
By mixing the bold and subtle tiles or using gorgeous marble veining, you'll get a white bathroom that's not sterile and overpowering.
2. Opt for a Monochromatic Design
When flipping through old vintage photos of bathrooms past, you'll notice that there is a lot of glossy subway tile and most are white from top to bottom—the walls, tub, shower, toilet, and vanity – everything matches! Pay homage to that all-white theme without being held hostage by mixing in some texture. For example, use Midpark Mosaics™ in Cloud to visually lengthen your shower stall. Use a larger size for the walls, backsplash, and floor. They all work together harmoniously to add texture and keep the eye moving.

For a different monochromatic approach, consider marble. Historia™ and Classentino Marble™ are classic options that can help bring all your bathroom ideas to life. They are highly polished surfaces and veining looks like marble, even though they are ColorBody™ porcelain.
3. Frame Your White Bathtub
It's not often that a bathtub takes the starring role, but a glamorous stand-alone tub can absolutely serve as a dazzling focal point. Choose a clawfoot, traditional, or soaker tub, then frame it with white tile. For example, use
Persuade
™ in White, a concrete look, brick joint tile around the tub with the same tile in 12x24 on the floor under it.
Another way to frame an old porcelain tub is to use large wood look tile planks beneath it.
Preservation
™ in Aged Walnut, for example, helps to draw the eye up. Paint the walls ivory white to match your tub and porcelain white basin sink. Finish off the space with an old-style fir vanity, a simple modern mirror with a white frame, and pewter faucets. And to draw the eye to the tub and upward, hang a vintage chandelier overhead.
If you go with an all-white bathroom that has a clawfoot tub, consider adding vintage finds to make the space interesting. A statement throw rug or old paint-by-number paintings will soften up the room and make it more inviting. Another way to keep the space interesting is to create an eclectic montage of black-and-white artwork and photos in gold frames on a wall opposite from the tub. Rotate the artwork often to minimize water damage. Use
Classentino Marble
™ under the tub and a white faux fur rug for texture.
4. Mix in Some Earth Tones
Mixing white with gray or brown (or both) - especially wood - can create a beachy, outdoorsy look.
Classentino Marble
™ in raked Palazzo White serves as the perfect launching point for a refreshed bathroom style.
SistemP
™ in Project Grigio Medio provides a stunning concrete look flooring. Finish with wood accents for a soothing, earthy combination.
If that doesn't reflect your personal style, shift the mood dramatically by installing wide planks on the bathroom floor. To make the space cozier add gray beadboard panels on the walls and an old-fashioned pedestal sink that has a copper faucet and exposed plumbing. Make the space even more welcoming with an off-white rug, and a matching armchair and towels.
Whether you pay homage to the vintage all-white bathroom through a monochromatic approach or by making an old tub the focal point, you can easily create a classic bathroom design you'll enjoy for years to come when you consider these tips and ideas.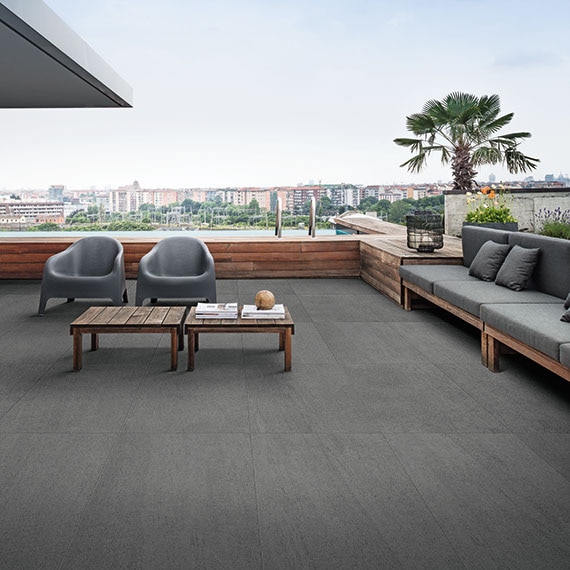 Explore Our
Products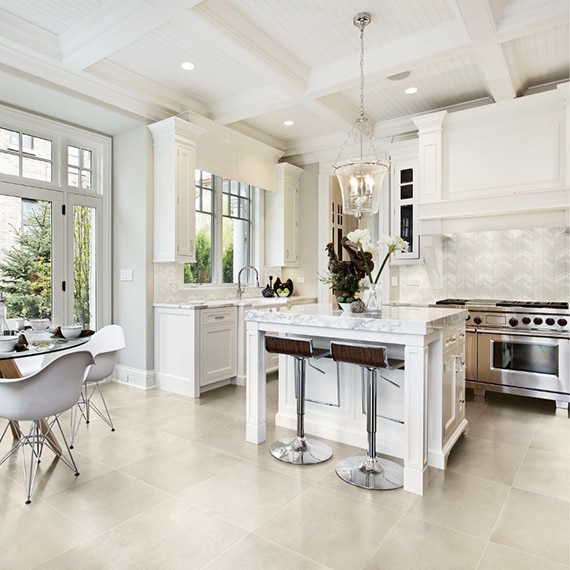 Inspiration gallery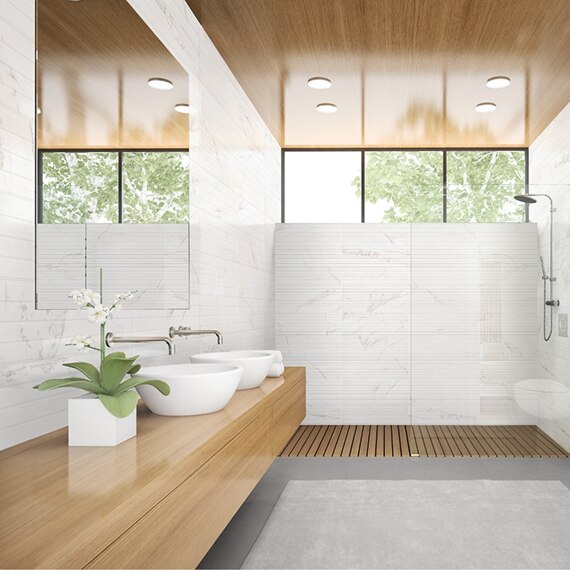 What's Trending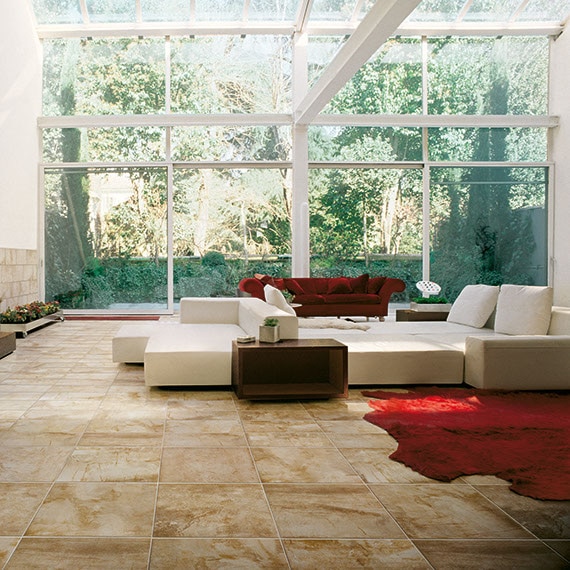 Design Consultation