Small Bathroom Designs:
Tile Can Play a Big Role
To create successful small bathroom designs, you should carefully consider tile size, shade, and shape, as well as where you want to incorporate tile into your design. For small bathrooms, remember that the backsplash, shower surround, and flooring play huge roles in creating a well-thought-out design.
Like kitchens, updated bathrooms help to quickly sell homes. Choosing high-quality materials, like Marazzi tile for your bathroom redesign can add to your home's resale value, impact its length of time on the market and make a huge impact in these small spaces.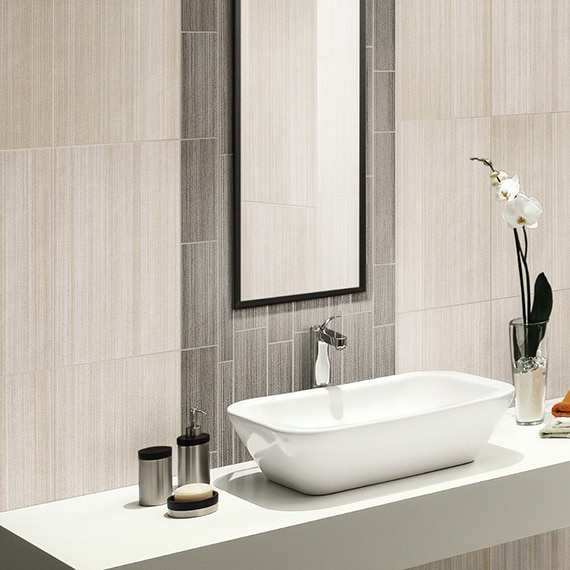 Go with the Right Tile Size
Small bathroom designs don't necessarily require mini tiles to achieve an appropriate scale. Going with larger tiles can produce a show-stopping look—but you should use caution to ensure your tile and the size of your room complement one another.
Choose a tile size that allows you to place at least three in each direction—any fewer, and the tile will appear too big for the room. Opting for the largest tiles that are appropriate for your space means fewer grout lines, and narrow grout lines result in a cleaner, more fluid appearance.
Choose the Perfect Tile Shade and Finish
The color, shade, and finish of the tile you choose for a small bathroom can make or break your overall design. For example, pale shades make a room airy and bright, which makes the space appear larger. You can also create the illusion of space by using tiles that are at least a shade darker than the other finishes in the room.
The best way to visually expand the appearance of a small bathroom is to design with a monochromatic scheme that features similar light colors and high-gloss finishes for each detail. A glossy finish, whether it's on porcelain fixtures, marble-inspired floor tile, or a glass mosaic tile backsplash, reflects light and can infuse any space with more illumination than a matte finish.
Carefully Consider Tile Shape
Square is only one of many tile shape options, and it may not be the right shape to make a small bathroom look like it has more space. Consider linear or plank tiles, which offer length when they run in the direction that needs it most.
You can use tile to do much more than just widen the floor. You can also add tile up the walls to make the ceiling appear higher than it is or continue it up the wall that faces the entrance of the room to create a runway effect to lengthen the space. If you plan to implement square tiles into your design for form, opt for small mosaic tile, and run it from the floor to the ceiling for the most visually appealing layout.
Incorporate a Few Bold Details
Your small space needs a few impressive details to stand out in the world of bathroom designs. Don't be afraid to implement tile that offers texture, whimsy, and daring attitude—just don't go overboard. For example, create an ornate feature wall that backs a freestanding tub or floating vanity. A striking wall with aesthetic movement draws the viewer in and gives the eye a focal point. From there, incorporate small but stimulating touches, such as designer linens and a stunning tile border.


When designing a small bathroom space, keep it minimal because clutter is never good for a tiny room. Add only a few bold, decorative elements, keep a clean, simple color palette, and choose quality finishes. Keeping these tips in mind, you'll develop a space that's big on style, regardless of your square feet limitations.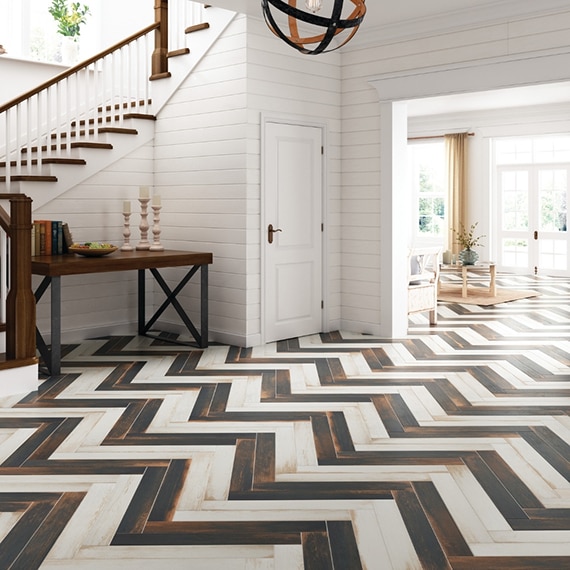 Explore our products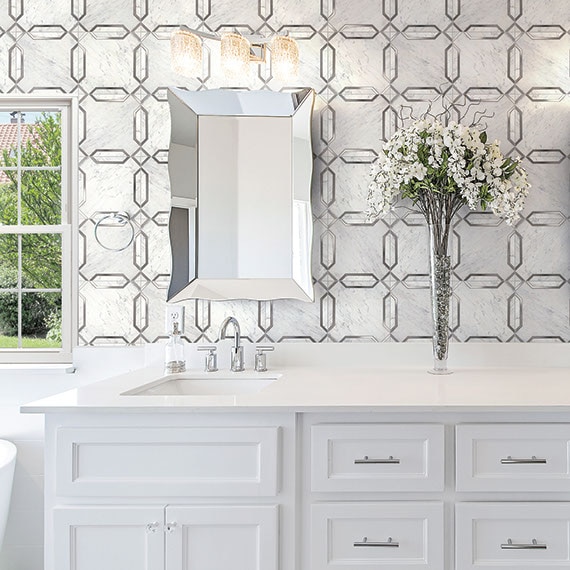 What's Trending
Style & Design Tips
Design Guidance