Updating Your Bathroom to Help Sell Your Home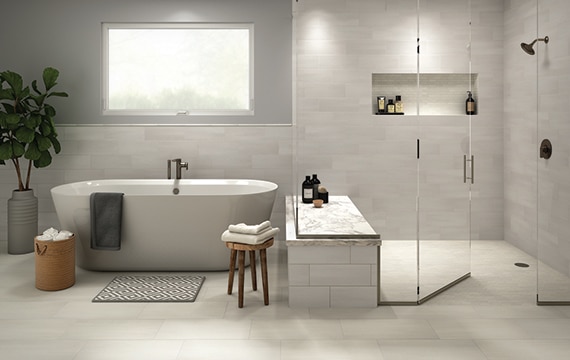 Professional realtors often advise home sellers to make small changes that make a big difference in a potential buyer's first impression. Flowers in the garden, a freshly painted interior, and countertops devoid of clutter all help home buyers visualize the true potential of a home. But what about the bathroom? New bathroom tile and other small remodeling projects can help update this valuable space. Here are some design ideas to help you spruce up your home with new bathroom tile before you open your doors to potential buyers.
Add a Few Tiles to Make a Big Difference
Over time, a few of your floor tiles may shift slightly or crack, or old shower tiles may become discolored. Rather than risking home buyers noticing one or two unsightly tiles, consider replacing these tiles with new updated Marazzi tile. If you still have a box of extra tiles from the original tile installation, you have the best chance to match the colors. Keep in mind that even if you replace the tiles with the same brand, there could be a noticeable difference as many times they originate from different dye lots. So, in some cases, a replacement tile may be more obvious than a crack.
If you decide to replace cracked or discolored tiles, start by removing the surrounding grout with a handheld grout-removal tool. Next, gently pry the broken tile off the wall or floor using a hammer and chisel or screwdriver, then examine the underlying backer board or subfloor to determine if additional repairs are needed. Adhere the new tiles using thin-set mortar. Once the tile is set, reapply grout. Try to match the rest of the room's grout color as closely as possible.
Note that sometimes a crack is indicative of a larger problem. Usually, one or two small cracks aren't an issue. If the crack extends through an entire tile and into several others, you may want to check the subflooring and waterproof membrane under the tiles to ensure that you have the proper support. If your tiles are discolored, this can be treated by regular cleaning and with proper ventilation. For example, turning on the bathroom fan for 20 minutes or opening the windows after a shower can help air out the space and decrease humidity levels. This will help your tile stay looking fresh for years.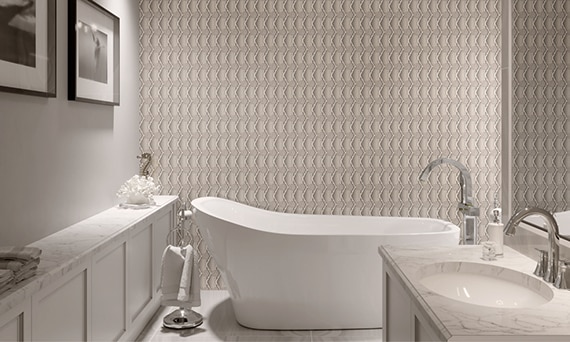 Liven Up the Space with a Backsplash
If you're looking to update an older bathroom, a glass tile backsplash is an instant upgrade that will immediately capture the attention of potential buyers. Mosaic glass tile can dress up neutral bath décor, and its light-reflecting capabilities will brighten the room. Marazzi's Serliana™ mosaic tile is a perfect choice. Its dramatic tonal ranges create a sense of movement and the random widths invite a sense of excitement into your bathroom. You can also add a twist to a classic white color scheme by installing oversized wall tiles. For example, the Persuade™ collection comes in three light colors to give your bathroom a fresh look.
Incorporate Glass Accent Tile
The beauty of glass alongside the natural light and airiness of an updated bathroom never fails to enhance the look of the space. Rather than using glass in one concentrated area, such as a backsplash, consider incorporating glass tile accents throughout the room. Glass bathroom tiles can brighten up your shower with their luminescent effect. Try incorporating them behind open shelving or in shelving niches. These are fun ways to not only play with color but to reflect the natural light of the space. A one- or two-row border of glass tile is also a great design element. It can be used as an accent on top of wainscoting, or to add contrast to a monochromatic color scheme.
Mosaic tile offers a quick & easy update
Once you've settled on your choice of bathroom tile, a backsplash is a quick job that can be easily be incorporated into your bathroom before the staging process. Most mosaic glass tiles are sold in prearranged patterns with mesh backing. The interlocking sheets can be easily lined up and applied to your wall, followed by your choice of grout. Using a basic pattern, ceramic or porcelain tiles can also be used to cover a small wall area, such as the back of a vanity, to add an additional element of style to your bathroom that new buyers will love.
Enhance Design with Decorative Tiles
Another project to consider for your bathroom upgrade is adding decorative tiles around the tub or shower. Decorative or accent tiles can strategically highlight the most attractive parts of your bathroom and bring attention to other recent updates. Add a row of glass tiles on the wall behind a soaking tub or frame an over-sized wall mirror with smaller tiled accents, for example. The beauty of the tile will help create a focal point that will stay with those touring your home long after they've left.
Add Natural-Looking Beauty
Recent trends in bathroom design utilize natural elements to create serene, spa-like environments. One way to create a natural look, but still, retain the benefits of tile in your bathroom, is through the use of wood look floor tile. Wood look, plank-shaped tiles combine the benefits of porcelain with the artisanal look of hardwood flooring. The porcelain surface is easy to clean and stands up well to stains. Simply grab a broom and sweep away dust when an expected buyer requests a showing. To complete the natural look of your bathroom, add natural greenery by placing small planters around the tub and opening the windows to allow natural light to spill into the room.
After Tiling, Stage the Bath
Once your new bathroom tiles are installed and ready to go, you're ready to stage your room. A thorough cleaning is a must, including the removal of any mold or mildew stains. If older grout is discolored, clean it and reseal it if possible. Then remove clutter from your vanity tops or use tinted glass containers to add sparkle and help organize toiletries. Lastly, hide personal objects in your bathroom, including picture frames. The goal is to make the room appear simple, yet welcoming. This helps new buyers visualize themselves in your home.
You want to sell your house for the price it's worth, so don't let outdated décor stop you. Ask a Realtor for an honest evaluation of your home before you put it on the market. Some buyers may have trouble looking past older bathroom floor tiles and color schemes, and it's better to understand potential issues before you begin showing your home. A quick tile refresh can result in a beautifully redesigned bath, which will be a strong selling point.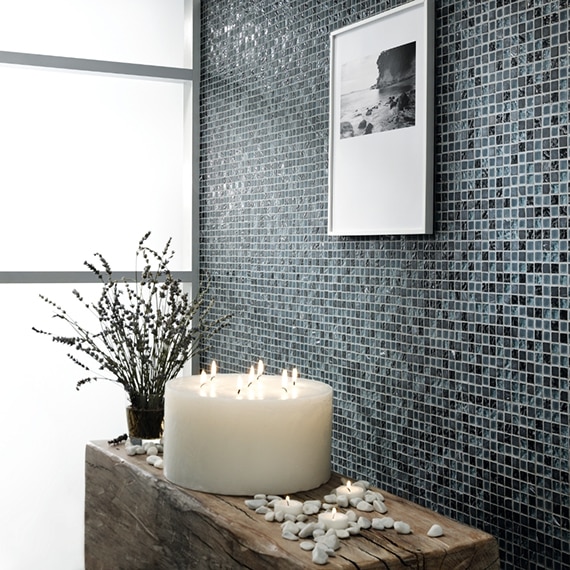 See all our products
Style & Design Tips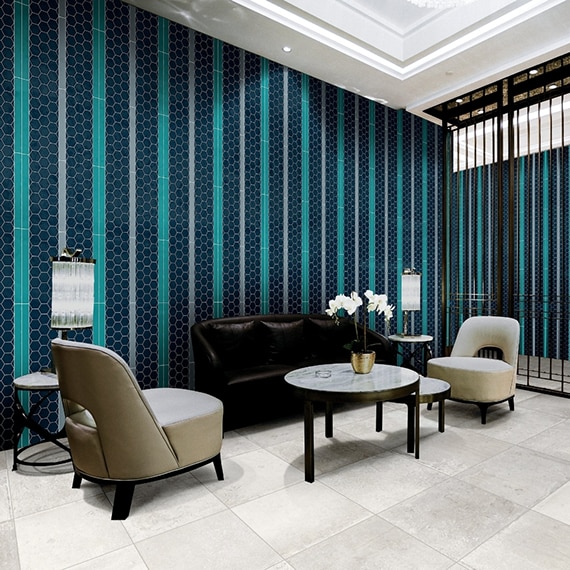 Inspiration gallery
Design Guidance